Welcome to BALADS! If you are reading this, you are likely interested in one of the most exciting things that we get up to - competitions!
---
The Competition Day
Comp days are long!
We usually meet outside the Guild of Students by the Mermaid fountain for around 5:30am - 7:00am, but it can be as early as 4:30am
We travel by coach or minibus to the comp venue
The comp will usually run from 9:00am until 9:00pm with lunch and dinner breaks. You don't dance for all of this - it depends on how many events / dances you enter and on how many rounds you get recalled for
We travel back home (often via McDonalds!)
Back to the Guild by 10:00pm - 11:00pm
SLEEP!
While this may sound like a lot and you may be unsure if comps are for you, the day never disappoints and you will all have a great time and and have lots of stories to tell - after all,  how many people do you know that have been to a dancesport competition?
---
How to enter a competition
The competitions we go to are hosted by other University clubs (including our own!) and we are required to send a list of participants in advance.
The Team Captains will publish a Doodle poll in our Facebook group - join if you haven't already! - which lists all of the events that are available. This will need to be filled in before the deadline (late entries are often possible but have an additional entry fee).

There will usually be Same Sex events, which may be relevant to your and your partner. Sometimes you can enter these as well as your normal category, Beginners, but not always - in these situations we recommend that you enter Beginners as you will be competing against people of similar experience. Same Sex will always include Novices, and it may be Open, meaning that you would be competing against all levels of dancers!
Coach Travel
On the Doodle poll we will also put down a Coach Travel column - this is mandatory to complete so that we know who needs to come on the coach! You and your partner will both have to select an option for this, so you will be making 3 rows for the two of you - one for the events you are dancing, one row for your travel and one row for your partner's.
We do this because sometimes people make their own way to the competition venue, or end up staying in the area after the competition is over.
---
What to Wear - Clothes
For both Beginner and Novice events, there are restrictions on dress. If you wear an 'illegal' piece of clothing you may be asked to remove it and may eventually face disqualification. Check with the Team Captains if you are not sure!
We recommend that you wear your outfits to the practice comp and BALADS Bootcamp so we can make sure that it is permitted.
Non-competitive dress includes basic items of clothing,  i.e. from the High Street rather than a dance retailer, with no sequins, crystals, logos or any other sparkly bits. Topshop and H&M are very good for finding black clothing. Charity shops are perfect for finding both lead and follower dress!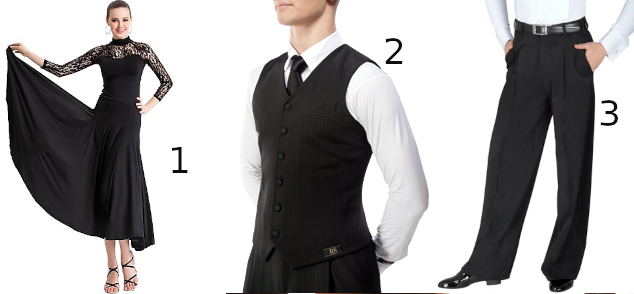 Ballroom
Regardless of whether you are dancing as a Follower or a Leader, you can wear whichever (Follower/Leader) style that you please!
For Followers (traditionally, Ladies):
Skirt: plain colour, wide hemline, around calf length (needs to be below the knee!)
Top: smart (plain) top, cami or leotard. Lace-look is allowed
The material of your skirt does not really matter, as long as it 'twirls'! Dresses are allowed as long as they are single-material and are not strictly designed for dancing - feel free to check this with us!
Colours: we recommend black or purple, as they are our team colours. Black is always a smart look and will always look good.
Jewellery: wear any jewellery you like to jazz it up!
For Leaders (traditionally, Men):
Trousers: smart black trousers with dark socks (not white / colourful!). You can wear a belt and/or braces if you need them.
Shirt: smart plain shirt and waistcoat (not essential but recommended!) and tie. If you wear a waistcoat, you should not be able to see your shirt at the bottom - wear a matching shirt to avoid this! (e.g. black shirt and black waistcoat). Don't wear your best shirt/waistcoat as you will need to pin your number to it if you are dancing as a leader.
Do not wear a jacket - it will bunch up at the shoulders when you dance!
Latin
Regardless of whether you are dancing as a Follower or a Leader, you can wear whichever (Follower/Leader) dress you please!
For Followers (traditionally, Ladies):
Skirt: shorter than for Ballroom i.e. above knees, good moves - not 'bodycon' style!
Top: smart plain top, cami or leotard. This can be the same top as for ballroom.
If you have a skirt that spins it looks fantastic when you turn. There's no specific material to look out for, whatever works. Your aim is to catch the eye!
We recommend that you wear a pair of shorts underneath - especially if your skirt is short!
For Leaders (traditionally, Men):
Trousers: smart black trousers with dark socks - this will be the same as for Ballroom.
Shirt: a dark buttoned shirt is recommended but this can be a white or colourful shirt. You will wear this open neck with no tie.
---
What to Wear - Shoes
Your feet are vitally important for dancing and we strongly recommend that you invest in a pair of dance shoes (this includes you, fellas!). You can get by in a pair of smart dress shoes but investing in a proper pair will make a huge difference - you won't stick to the floor, allowing you to move around freely, and your heels will be supported.
You can get a cheap pair on Amazon or eBay - these are perfect if you aren't sure whether you will want to commit to the sport as they will only cost around £20!
For Leaders, you should look to get a pair like these:
For Followers, you should look for a pair like these: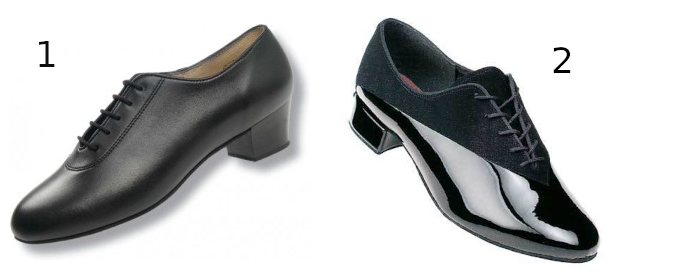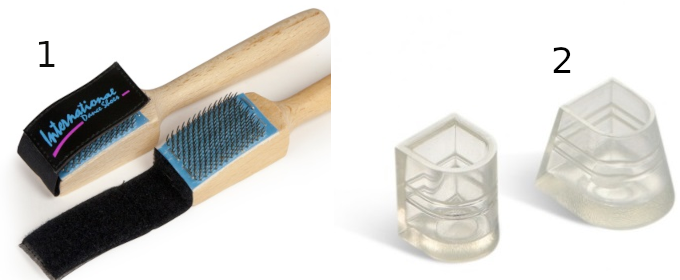 Men's Shoes
Men's Ballroom shoes can be used for both Ballroom and Latin - they have a lower heel for those Ballroom heel leads but they won't stop you from pointing your toes in Latin.
You can wear them regardless of gender or if you are dancing follower or leader!
Heel: Ballroom shoes have a very low heel, around 0.5".
Size: They should be comfortable but not too loose - your feet shouldn't move around in them.
Colour: You will want a pair of plain block shoes, shiny or matte is fine!
Ladies' Shoes
Ladies' Latin shoes can also be used for both Ballroom and Latin  - they allow you to point your toes, which you will need for Latin, and you can still dance Ballroom in them. Ballroom shoes have a closed toe but are rigid, so you can't bend your feet.
You can wear them regardless of gender or if you are dancing follower or leader!
Heel: Please don't get a heel higher than 2.5 inches! It will be very hard to arch your foot and push onto the floor! We recommend a 2 inch flared / wide heel which will be good for all dances.
Size - Your toes should be just on the end of the shoe so you can feel the floor, and when you point there isn't too much spare sole that might fold under your foot. Always go for the smaller size if in-between sizes as the satin will stretch!
Colour - Go for a tan or similar colour to match your skin tone and not draw attention to your feet (strange I know!)
The heels will wear especially quickly in Ballroom, so buy some heel protectors as well! Someone will also likely have some spares.
---
Hair
For Followers (traditionally, Ladies):
Your hair needs to be pulled back and off your face, including fringes and short, flyaway bits of hair. It also needs to be up and off your neck so the judges can see your body lines better.
Potential styles: Bun (high or low, can use a hair donut), French/Dutch braids (as long as the end is tucked in or abutted so it doesn't hang down)
Keeping it in place: We suggest using hair gel and / or hairspray to keep it smooth and in place. Straightening your hair first will help! You can decorate it with clips, flowers, crystal etc.
At the Practice Comp and BALADS Bootcamp we will be running a hair and makeup workshop where you will learn from a resident stylist! This is aimed at Beginners and those who may not have done competition hair and makeup before - we will hopefully be running a more intricate workshop at a later date!
For Leaders (Traditionally, Men):
Make sure that your hair is smart and away from your face.
Potential styles: We suggest that you get a hair cut shortly before the competition to avoid having to deal with longer hair. Common options include the slicked-back look or a quiff. You definitely have an easier time than the followers, though!
Keeping it in place: You want to keep it in place all day so use plenty of hair gel and hairspray - people will likely be able to lend this to you on the day but we suggest getting your own product.
---
Make Up
For Followers (traditionally, Ladies):
Your goal is to stand out and catch the judges' attention! Think stage make-up, creating sharp lines to highlight feminine features. Fake eyelashes are very useful for this.
Using primer with your makeup is an an excellent idea as comps are very long and your makeup needs to last!
We run hair and makeup workshops every year, but you can check out
the excellent Makeup Tutorials - further down this page - contributed by Kerris!
For Leaders (traditionally, Men):
You can get away without any makeup but wearing some foundation and / or dark bronzer will go a long way!
You should generally be completely clean-shaven for a competition but, like makeup, this isn't a deal breaker!
---
Tanning
It is recommended but entirely optional to use fake tan for a
competition! The bright lights will wash you out and the more you
can do to stand out the better.
You can use an overnight tan in spray or liquid, or go for a tanning moisturiser - this is generally better but you need to start using it a week in advance!
I repeat that tanning is entirely optional. We recommend it for Blackpool - we go and get spray tans together and it's a good laugh (especially for the blokes!) - but you will not be pressured to tan at any point.
---
Getting more help
You can find pictures and videos of couples dancing at competitions on the Facebook account 'BALADS Photos' - https://facebook.com/balads.photos
This is our private account - we only accept friends that we know - and is used for posting competition snaps. For restricted dress, if you aren't sure, take a look at videos for Beginner and Novice (though some competitions are Open Dress so be wary!)
We will have the Practice Comp and BALADS Bootcamp before the first comp of the year to go over everything we've talked about. Society members will often be able to help out with hair and makeup and may advertise their services.
---
Kit List
For Everyone
Your student ID card (if you have one)
Ballroom outfit
Latin outfit
Dance shoes and shoe brush
Clothes to travel in (warm, comfy - team T-shirts/hoodies are ideal!)
Lots of water!
Food (you can sometimes buy it but always bring plenty - and make sure to eat it as well!)
Any medication you may need - please let us know any medical issues you may have
Cash
Camera (phone)
Pen and paper
Spare contact lenses (if you need them)
Safety pins (you never know when you might need to fix an outfit!)
For Leaders / Men
Cufflinks (if your shirt requires them)
Tie
Belt (and braces)
Comb
Hair gel / hairspray
Razor (in case you missed your alarm!)
For Followers / Ladies
Bra that you can dance in
Spare tights (if you want to wear them - only skin tone tights though)
Costume jewellery (nothing too valuable! Cheap sparkle preferred!)
Hairspray / hair gel
Hair pins (bun pins and Kirby grips)
Hair donut
Bun nets (you can buy 100s of these on eBay or Amazon)
Mirror
Make up
Most important of all
A smile!
---
Makeup Tutorials
These fantastic tutorials have been contributed by Kerris and we are very grateful to be able to host them here!