As many of you will know, we compete on the University Dancesport Circuit, attending competitions that are hosted by other universities as well as by the Inter Varsity Dance Association (IVDA). But did you know that there is another circuit that you can compete on?
Differences with University competitions
|   | University Circuit | Open Circuit |
| --- | --- | --- |
| Restrictions | Open to students and ex-students | Open to anybody |
| Start time | 9am start | Afternoon start |
| Day | Typically Saturday | Typically Sunday |
| Cost | Generally £16 - £20 | Generally £16 - £20 |
| Organisers | University clubs and IVDA | Dance schools and promoters |
| Rounds | Typically 2 - 6 rounds | Typically 1 - 2 rounds |
| Judges | 3 - 5 typically | 5+ typically |
| Steps | Restricted steps for Beginner and Novice | Restricted steps for Beginner and Novice |
| Dress | Restricted dress for Beginner and Novice | Restricted dress for Beginner and sometimes Novice |
| Events | Beginner, Novice, Pre-Inter, Inter, Advanced | Beginner, Novice, Inter, Pre-Amateur, Amateur |
| Beginner Dances | Separate events for WQ / CJ | Two-dance WQ / CJ |
| Novice Dances | Two-dance WQ / CJ | Two- or three-dance (varies with competition) |
| Intermediate Dances | Three-dance WQ and variable third dance | Two- or three-dance (varies with competition) |
| Advanced Dances | Four-dance WQ and variable 3rd+4th dance | Three/Four-dance (Varies with competition) |
As the name suggests, the Open Circuit is open to all dancers, unlike University competitions which are aimed at current and ex University students. This means that there are events for all age groups: Juvenile (under 10), Junior (under 14), Under 21, Under 35 and Over 35, as well as Senior 1 (over 55), Senior 2 (over 60) and Senior 3 (over 65).
The kids tend to dance in the morning, so Adult competitions tend to start in the early afternoon - around 2pm is typical. This means that there is no need to get out of bed early!
Open competitions tend to be held on Sundays (it is known as the 'Sunday Circuit'). Some of us have, on occasion, attended a University competition on the Saturday and an Open competition on the Sunday!
As on the University circuit, there are different categories on offer for different levels of experience: Beginner, Novice, Intermediate, Pre-Amateur (or Pre-Champ) and Amateur. The first four categories are similar to Beginner, Novice, Intermediate and Advanced on the University circuit. There are two distinct differences - first, the Open circuit does not offer the Pre-Intermediate category. Second, the Open circuit offers the highest level of competition that is possible - Amateur. There is no higher competition on offer without becoming a dance professional.
There will often be Open events as well, such as Open Foxtrot or Open Rumba. These work the same as Open events on the University circuit - though you may be competing against Amateurs, generally it is frowned upon as their event is already a five-dance (WTVFQ / CSRPJ). It is, however, excellent practice to dance on the same floor as more experienced dancers, and remember - it is their job to get out of your way, not the other way around!
A big difference between the circuits is in the number of competitors you can expect to find. With the exception of the kids - Junior and Juvenile makes up a substantial amount of the competition - and U21 / Amateur, it is very likely that events will have fewer rounds. This is often the case except for some of the bigger competitions (see below).
Another difference is in restricted dress - on the Open Circuit Novice is often not restricted dress, which means Novices can wear sparkles, tailsuits and Latin shirts. It is also worth mentioning that what constitutes non-competitive dress is slightly different - it is only sparkle that is disallowed in Beginner and practice dresses are allowed (we have a few!).
Finally, the dances that you do on the University circuit will always be the same - Waltz Quickstep (WQ) and Cha Jive (CJ) for beginners, Novices and Pre-inters. While this is true for Beginners on the Open Circuit, the other categories will vary - you may be dancing a Cha Samba (CS), Rumba Jive (RJ), Waltz Tango (WT), Foxtrot Quickstep (FQ) etc.
You can also usually enter more than one category - i.e. you would enter both Beginner and Novice. This means you get more chances to dance as there will very likely be less rounds!
Competitions
While most competitions tend to be quite small, there are some bigger events throughout the year which may be just as big (or even bigger) events as many University competitions.
You can see most of these competitions listed on the DPA Calendar under "Ballroom and Latin American". The ones below are competitions that we have attended in the past and can personally recommend!
Champions of Tomorrow
The first big event coming up is Champions of Tomorrow. This is held in the Winter Gardens, Blackpool - same place as IVDC! - and typically happens in early January. This year it will be on Saturday 8th January.
Stars of the Future
This is one of the biggest competitions of the year and is at a good time for the University circuit, typically taking place in early June. In 2022 it will be on Saturday 10th June at Medway Park, Gillingham - information will be posted here in due course.
Many of us have attended in the past and we tend to make a weekend out of it. It is one of the most well-attended competitions - in previous years Beginner and Novice have had 3 to 4 rounds - and you can expect the highest calibre of dancers in your category to attend.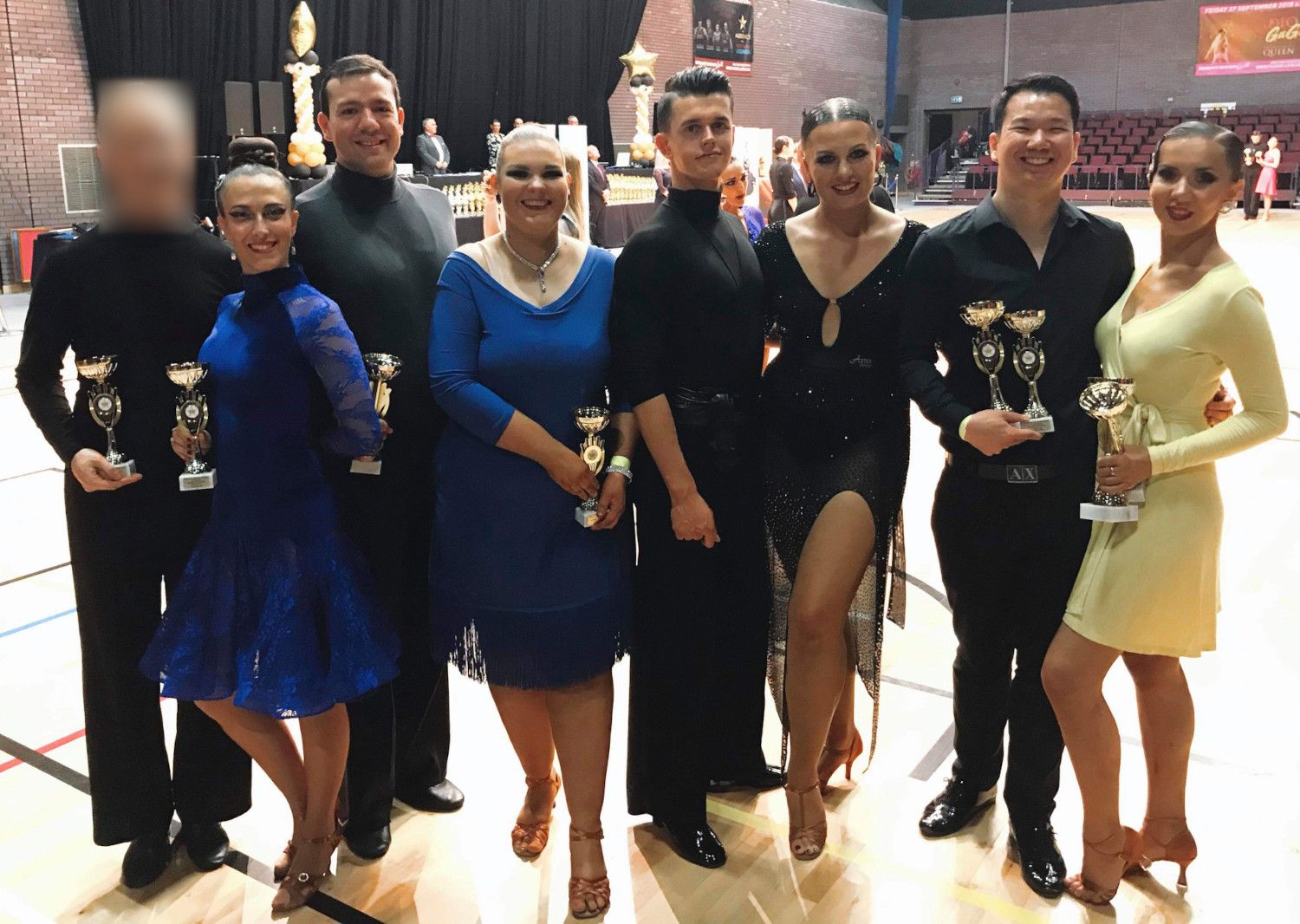 In order to attend you need to qualify - this typically means you need to attend at least one DPA National League competition, of which there are many throughout the year. When we went to Stars, we attended three of these competitions. Attending also gives you points on the leaderboard.
UK Closed Championships
The final event of the year is the UK Closed Championships in Bournemouth. This typically takes place at the end of July at the Bournemouth International Centre. In order to compete in this event, you must place in the top 12 of the DPA National League - due to the typical number of competitors in Beginner and Novice, this will generally only require going to several competitions.
In previous years we have made this into a full week trip. There is a whole week festival of events and some amazing dancing to watch. This coming year it will take place from 27th - 31st July.
Local Competitions
Many of us will be aiming to travel to a few local competitions as well throughout the year. In the past, we've been to competitions in Worcestershire, Staffordshire, Lancashire and Surrey. Here's a few relatively local ones that we may travel to (some of these we've been to before!) as well as some context for the dates above:
27th December 2021 - City of Birmingham New Year Trophy Day - Longbridge, Birmingham
8th January 2021 - Champions of Tomorrow
23rd January 2022 - East Yorkshire Super League Titles - Hull
6th February 2022 - Central Super League Open - Cheslyn Hay, Staffordshire
13th March 2022 - Pennine Trophy Day - Stockport, Greater Manchester?
3rd April 2022 - Cairncross/Follett Awards Day - Leatherhead, Surrey
1st May 2022 - English Open Titles - Worcester, Worcestershire
8th May 2022 - British Isles Dance Awards - Stoke-on-Trent, Staffordshire
15th May 2022 - The All Nations Cup - Burton upon Trent, Staffordshire
5th June 2022 - Pre Stars Grand Prix - Stoke-on-Trent, Staffordshire
11th June 2022 - Stars of the Future
19th June 2022 - Oxfordshire Titles - Banbury, Oxfordshire
26th June 2022 - North West Masters 2022 - Stockport, Greater Manchester
3rd July 2022 - City of Nottingham Super League Day - Nottingham, Nottinghamshire
10th July 2022 - The Cheshire Grand Prix - Holmes Chapel, Cheshire
17th July 2022 - The Three Counties Championship Day - Kirkby in Ashfield, Nottinghamshire
27th - 31st July 2022 - DPA Summer Festival including UK Closed Championships
What to do now
Keep focusing on your dancing in classes and attending University competitions! If you and your partner are interested in getting a bit more practice and are looking beyond February next year, consider talking to me or Katie about the Open Circuit - you may find that some of us are already considering going to some of the competitions above!